TJ-II:Plasma Wall Interaction
From FusionWiki
To condition the wall of the TJ-II vacuum vessel, a number of techniques is used, such as a baking system. [1] Currently, this system is no longer in use.
Glow Discharge Cleaning
Glow discharge cleaning is routinely used at TJ-II. [2] [3]
Limiters
TJ-II is fitted with two mobile limiters. Nevertheless, the main interaction between the plasma and the wall occurs at the central "groove". [4]
Wall conditioning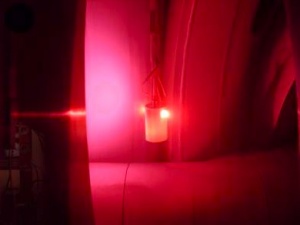 Careful control of wall conditions is essential for successful operation. [5]
The walls can be coated by various materials, using a set of 4 evaporation ovens: two fixed and two mounted on retractable manipulators. In the course of time, TJ-II has been operated with the following types of wall:
Boron-coated wall [8] (starting 2002)
TJ-II was the first stellarator to be operated with Lithium-coated walls. The lithium coating has led to much improved density control.
References