TJ-II:Limiter
From FusionWiki
TJ-II has two mobile limiters, located in sectors A3 and C3 (115.5º and 295.5º), with a toroidal separation of 180º. [1] The limiters are fitted with Langmuir probes and gas injection ports. [2] [3] [4] A biasing voltage can be applied. [5]
Liquid Lithium limiters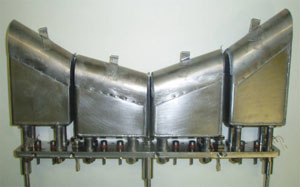 On May 2012 the LLL was installed in sector A. [6] [7] [8] Experiments on D retention were performed at temperatures up to 400°C.[9] Also, biasing of the LLL respect to the plasma and respect to he C limiter in C3 were carried out.[10] Insertion of the LLL up to 3 cm into the edge was possible without any apparent damage. Biasing of the LLL to positive voltages led to improved energy and particle confinement in ECRH plasmas. [11] In 2014, a second LLL unit has been installed in C3 to replace the former C limiter.
References